Dr. COW ®-Ⅲ somatic cell counter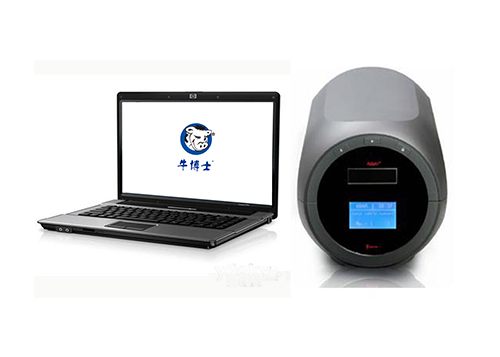 Comprehensive advantages:
1. Accuracy: highest detection accuracy in the world (Korean Ministry of Science and certification of statutory instruments)
2. Price: best price in the current China market (about the price of similar equipment 1/2-1/3)
3. Operation: simple, stable, secure and intuitive
4. Service: professional team of 24-hour telephone service/48 hour on-site service
5. Warranty: the industry's longest warranty period, up to 5 years, worry free, we stand ready
to provide backup machine
6. Consultation: exclusive dairy industry [cell detection of raw milk and controlling body
overall solution]
Product Features:
1. Operational: very simple, laboratory personnel without training.
2. Security: disposable smart chip, reducing the risk of contamination of the laboratory environment.
3. Accuracy: error of <1% (600,000), <2% (400,000), excellent repeatability.
4. Speed: 30 sec/sample, 120 samples/hour; the fastest test 160 samples per hour.
5. Sample volume: 100ul, 12ul (maximum 20ul) volume is the industry's largest number of meter reading.
6. Detection range: 0-10 million/ml ; herd and individual cow screening can detect large pot.
7. The image display: real-time display, the whole process of detection and the somatic distribution of image can be visually observed .
8. The cost of the instrument: to meet the accuracy requirements of national standards for similar equipment in the lowest price.
9. Consumable costs: low, a chip can be measured four samples and independently adjusted to detect the amount and frequency.
10. Maintenance Costs: None. It does not require cleaning, maintenance and calipation (standard serving is also available).
11. The computer configuration: choose, no computer can also display images and print test results.
12. Supporting software: Optional professional biometric software, automatic storing, analyzing test data.